Major Business Areas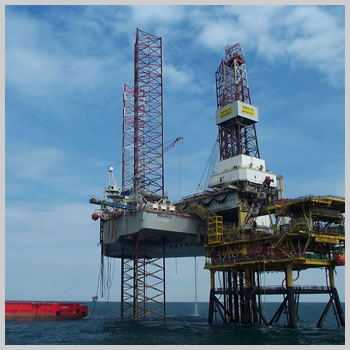 Offshore
Rack and Chord for Jack-Up Rig
Rack & Chord made by our company is used on many Jack-Up Rigs that operate in the major sea areas in the world.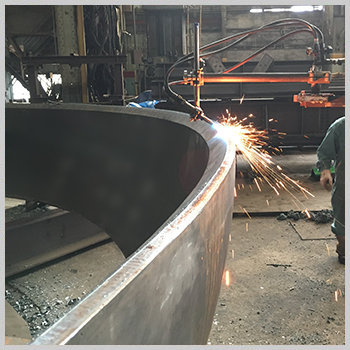 Steel Plant
Our fabrication skill is inherited from our former company of Nippon Steel & Sumikin Engineering Co. Ltd., and it has been highly esteemed from many customers.
There are many fabrication and supply records of extra-large welded structures such as blast furnaces and converters to major domestic steel makers.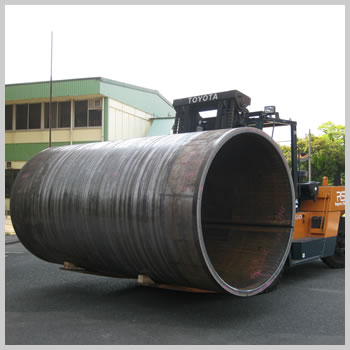 Steel Pipes and Tubes for Structure
Steel pipes for structures are fabricated with our large bending roll and pressing machines. RSJ is one of few domestic companies able to fabricate bending over 100mm thickness steel plate. This valued skill is adopted for Tokyo Sky Tree and Tokyo International Airport (Haneda) D-runway jacket.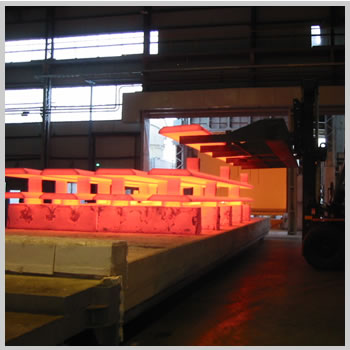 Heat Treatment
Our heat treatment facilities – furnace and cooling bath – are capable of variety of heat treatment such as extra-thick material and large welded structures.
Supply Record
Offshore
Rack and Chord for Jack-Up Rig   Supply record 85 units (as of January 2018)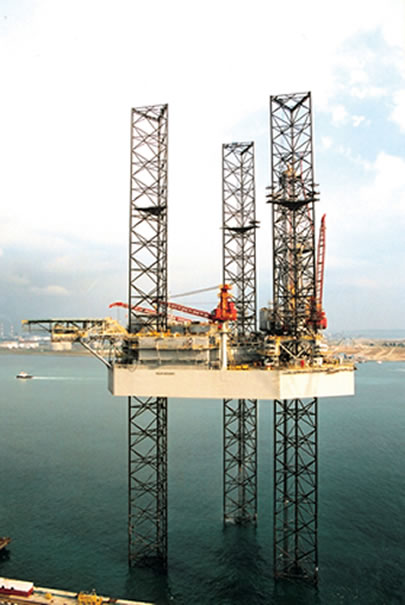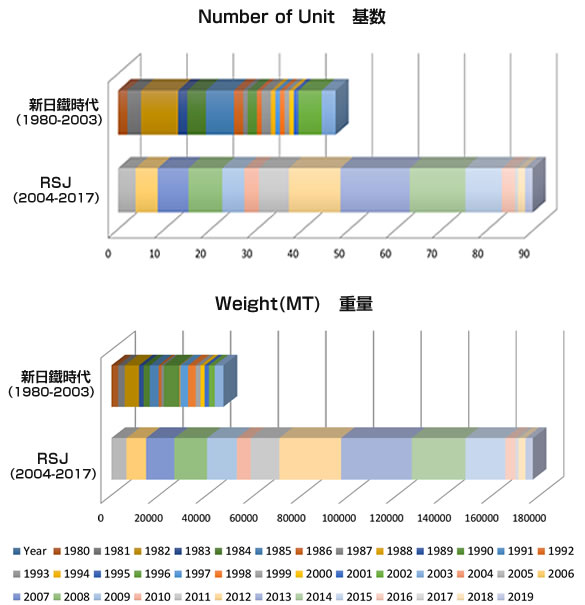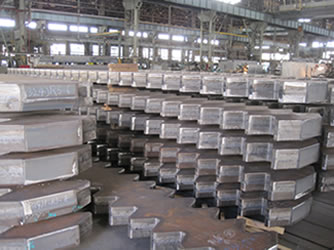 ◆ Rack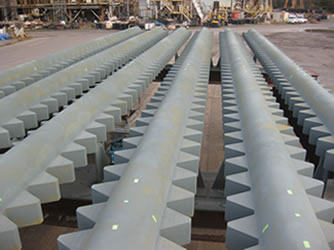 ◆ Rack and Chord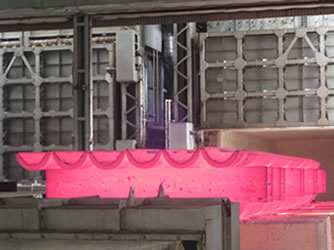 ◆ Heat Treatment
Major Jack-Up Rig Design
KFELS B Class
Leg Length

517 ft

Rack Thickness

177.8 mm

Chord Thickness

57.15 mm

Max Water Depth

400 ft

Max Drilling Depth

30,000 ft

Material

EQ70
KFELS N Class
Leg Length

568 ft

Rack Thickness

177.8 mm

Chord Thickness

82.55 mm,110 mm,115 mm

Max Water Depth

492 ft

Max Drilling Depth

40,000 ft

Material

WEL-TEN780Mod-060
KFELS Multi-Purpose Self-Elevating Platform (MPSEP)
Leg Length

348 ft

Rack Thickness

177.8 mm

Chord Thickness

57.15 mm,82.55 mm

Max Water Depth

213 ft

Max Drilling Depth

–

Material

WEL-TEN780Mod-040
MSC CJ70-X150-MD
Leg Length

678 ft

Rack Thickness

210.0 mm

Chord Thickness

62.5 mm,82.5 mm,95.0 mm,120.0 mm

Max Water Depth

400 ft

Max Drilling Depth

30,000 ft

Material

EQ70
Large Welded Structure for Steel Making Facility
◆ Blast Furnace Tuyere Mantel
◆ Hearth Roll for Continuous Annealing Equipment (CAPL)
Extra thick Large Diameter Pipe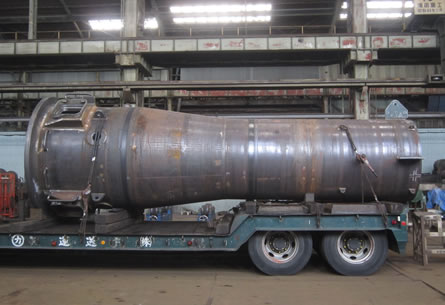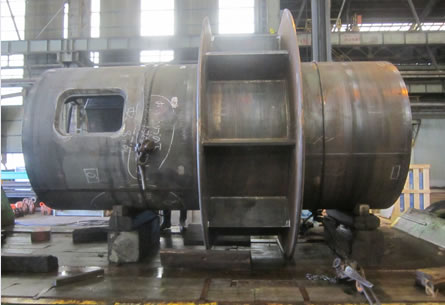 Center Pole for Offshore Wind Turbine
Specification

SBHS700W

Tensile Strength (TS)

780 ~ 930 N/㎟

Yield Point (YP)

≧ 700 N/㎟

Thickness

11 ~ 75 mm

Outer Diameter

1,800 mm

Length

30,500 mm (max)
Steel Pipe for Tokyo International Airport (Haneda)
Specification

SM570-Z25S

Tensile Strength (TS)

570 ~ 720 N/㎟

Yield Point (YP)

≧ 420 N/㎟

Thickness

18 ~ 70 mm

Outer Diameter

1,000 mm

Length

21,000 mm (max)
Steel Pipe for Tokyo Skytree
Specification

BT-HT500C
BT-HT630C

Tensile Strength (TS)

590 ~ 740 N/㎟
780 ~ 930 N/㎟

Yield Point (YP)

500 ~ 650 N/㎟
630 ~ 750 N/㎟

Thickness

36 ~ 100 mm

Outer Diameter

1,100 ~ 2,300 mm

Length

10,000 mm (max)
Others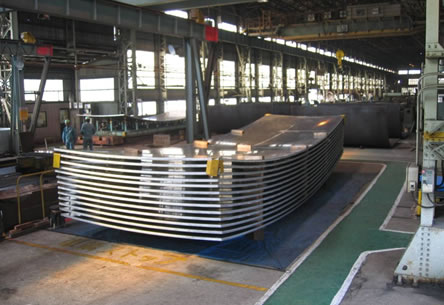 ◆ Spherical Shell Tank for LNG Vessel (Aluminum)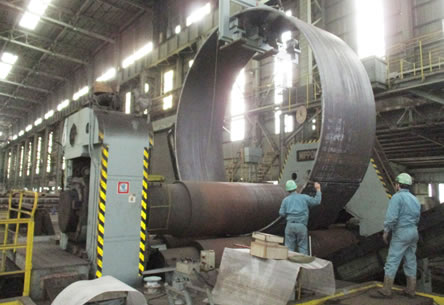 ◆ Rotary Kiln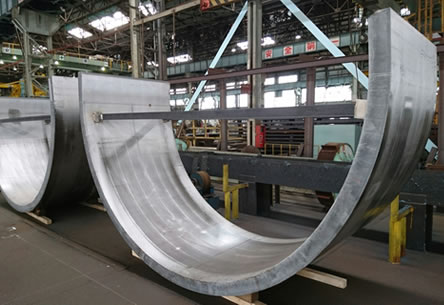 ◆ Shield Parts Bending (Stainless Steel)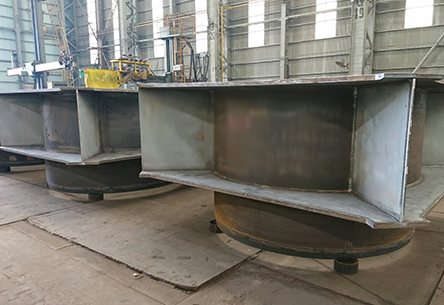 ◆ Jacket Top Leg